As a writer visiting Los Angeles from Austin, I don't expect water to get me stoned. Sure, I smoke regularly (sorry Mom!), but the marijuana economy I know is confined to a friend's living room. LA may as well be another planet when it comes to cannabis, and there's no better way to acclimate than spectating at the world's first-ever professional weed video game tournament, which happened this past Saturday at an undisclosed location in DTLA.
Since, uh, just going to the world's first stoner video gamer tournament wouldn't be quite ridiculous enough, I also decided to follow around Angela Mazzanti, a competitor who is also a Suicide Girls-style model with 343K Instagram followers.
Honestly, going into it I definitely thought this thing would be a joke.
And when I walked in, I realized that to some extent, this event is the absolute stoned ceiling of stereotypes — but with surprisingly professional polish. The 16 qualifying events blatantly broke the law, and last Saturday's championship was the first since California's vote on legalization. Depending on your point of view, it's a joyous celebration of personal liberties or a parent's worst nightmare.
Either way, it's definitely not a joke.
The industrial two-story warehouse venue in Downtown LA hosting The Stoned Gamer Grand Finale reminds me of the Foot Clan hideout in the original Teenage Mutant Ninja Turtles movie, except with suited security guards and a staff checking medical marijuana licenses. An EDM DJ provides the soundtrack while hundreds of "patients" browse a trade show's worth of edible companies, sampling everything from THC donuts to CBD body oils. Naturally there's also figurative buffets of "flower", the industry term for good ol'-fashioned herb. Console games project throughout onto a huge screen, plus there's an old-school stand-up arcade room. A concession stand staffed by a cute girl in a cut-off T-shirt that reads "Weed, Pizza, and Boys With Tattoos" serves, you guessed it, pizza. These "regular" slices are lukewarm, but upstairs a booth serves freshly baked pies… with weed in them.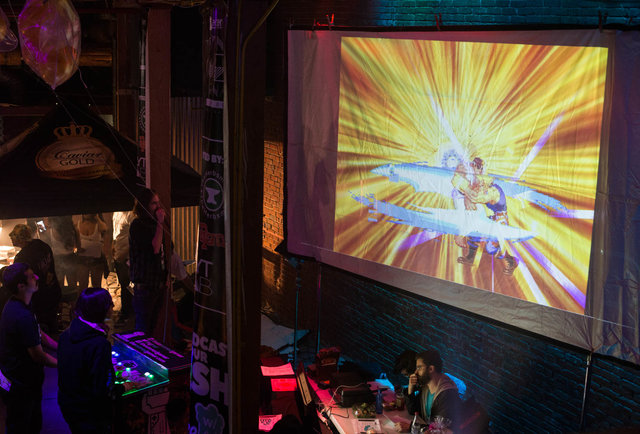 A sample bong rip of Pot Rocks-branded flower makes me feel like a stranger in a stoned land, but for Angela these types of functions are weekly occurrences. Heavily tattooed, rail-thin, with a wide, friendly smile, she uses social media savviness to build her career as a weed industry professional. She even organizes her own charity event called Compassesh, which collects donations for local food banks and Toys for Tots.
Today she's one of 64 e-athletes competing for a treasure chest full of enough "medicine" to stay "perfectly healthy" for a year. Titles like Counter-Strike: Global Offensive and League of Legends dominate professional online gaming, but the Stoned Gamer tournament goes decidedly old-school with a championship of Marvel vs. Capcom 2 — the 2000 Dreamcast game that combined canonized characters from the Street Fighter franchise and comic heroes long before they dominated box offices. Gameplay looks visceral and a bit cerebral, with the right combination of luck and strategy, plus enough 20-year-old visual fireworks to look great on a 10ft projection screen.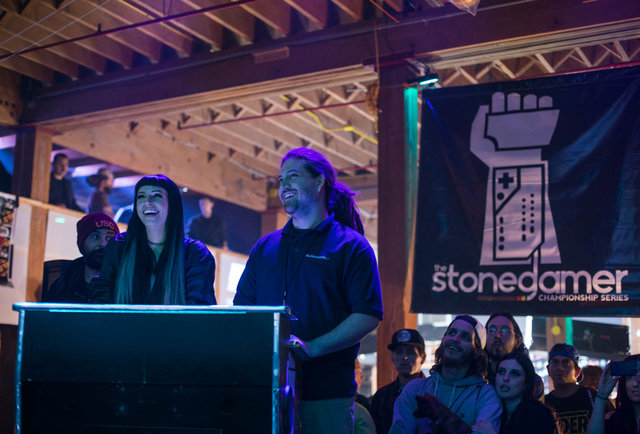 You can read the rest of the article at: Thrillist